Our outdoor cabinets quickly assemble into a virtually limitless combination of configurations.
Each piece is made of glass-fiber reinforced concrete (GFCR) which can be installed on any solid flooring surface without concrete footings or rebar. They eliminate construction waste and reduce additional time associated with traditional masonry block installations. Outdoor cabinets can be assembled in just hours; even cut-outs for custom features such as barbecues, sinks, drawers and burners can be done on-site.
Straight (Linear) Cabinets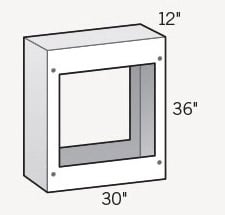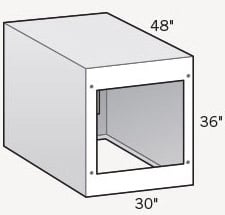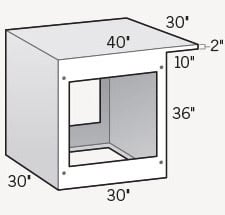 Cabinet with 10" Cantilever Backside
30"D × 30"L × 36"H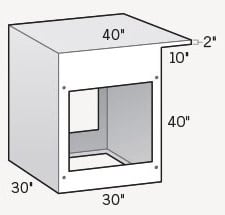 Bar-Height Cabinet with 10" Cantilever Backside
30"D × 30"L × 40"H
90° Corner Cabinet
30"D × 30"L × 36"H
90° Corner Cabinet with 10" Cantilever on Two Sides
30"D × 30"L × 36"H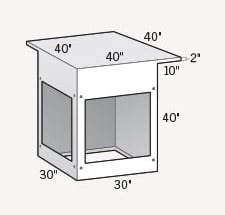 Bar-Height 90° Corner Cabinet with 10" Cantilever on Two Sides
30"D × 30"L × 40"H
Walls, Columns & Accessories
Column with End Cap
18"D × 18"L × 36"H
Instantly build perfect stone or brick columns/ Column ships with access panel. Designed with top and bottom flange for attaching masonry anchor or bolting.
Straight Seating Wall
8"D × 48"L × 16"H
Create seating walls in hours vs. days. Finish with Eldorado Stone & Wall Caps for an authentic masonry appearance.

Curved Seating Wall (1/8 Circle)
8"D × 39.5"L × 16"H
Curved seating wall is designed with a 51" radius from the center point to the inside edge, perfect for pairing with our round re pit.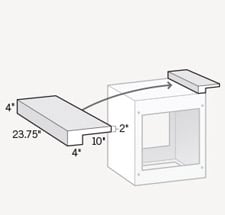 Straight Raised Backsplash

Creates 4" high raised backsplash (23.75" long) with 10" cantilever and 14" counter surface. Requires 3 bolts for mounting (not included).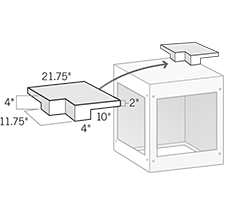 Corner Raised Backsplash
Creates a 4" high raised corner backsplash with a 10" cantilever; connects to straight raised backsplash for L-shaped configurations. Requires 2 bolts for mounting (not included).
Cabinet End Cap
24" × 24" sq
End Caps complete the installation by closing off openings on either end of assembled island.
Vent
Vents are recommended by many barbecue appliance manufacturers when installing gas appliances into a closed cabinet.
Appliance Bracket Set
Includes 2 brackets & screws for use with drawers, doors, etc. Works with flanges to secure items in cabinet cut-outs.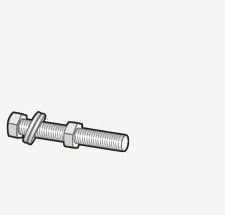 Fastener Set
Includes 4 nuts, 4 bolts & 8 washers. One fastener set is required to secure two cabinets.
Outdoor Cabinets
The sheer magnitude of materials, time and manpower required to build a CMU Concrete Block kitchen compared to Kindred Outdoor is well illustrated in this "example." Kindred Outdoor allows you to create beautiful and authentic masonry outdoor spaces in less than half the time compared to traditional building techniques. The strong, yet lightweight material doesn't require additional concrete footings, bending rebar, or any of the mess, waste and time associated with CMU installations.

6 Outdoor Cabinets
4 Raised Backsplashes
2 End Caps
Hand Tools
2 People
1 Day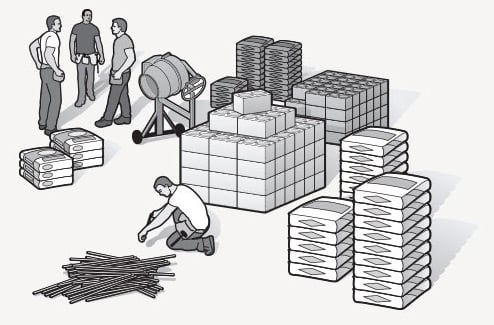 160 Qty. Concrete Blocks
200 Ft. Rebar
45 Qty. Bags of Cement
Heavy Equipment
4 People
7 Days
Find Your Perfect Finish.
Experience the soft and luxurious limestone finishes by Kindred Outdoors & Surrounds.
Available in four unique colors and two handcrafted finishes.