Hearthstones are crafted with the same natural materials and four step hand finishing process as our fireplace surrounds. Available in the same colors and finishes, hearthstones provide a coordinated and attractive foundation for a fireplace surround.
Hearthstones Set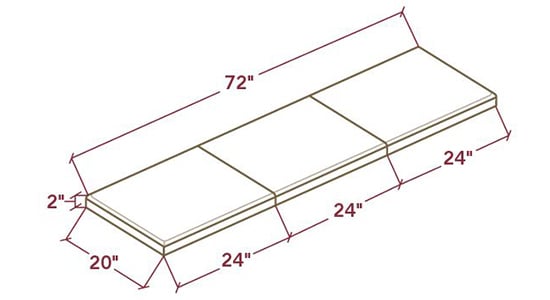 The Hearthstones set includes three or four hearthstones used as a foundation for any fireplace surround. The width of the three or four hearthstones will be sufficient for most fireplace surrounds, however single hearthstones are available (sold separately) to expand the length of a hearth. Hearthstones can also be installed directly on top of Hearth Riser Blocks (sold separately) to elevate a hearth.
A 3-Set includes 3 Hearthstones (left, center, and right). Dimensions: 72"W x 20"D x 2"H
A 4-Set includes 4 Hearthstones (left, 2 center, and right). Dimensions: 96"W x 20"D x 2"H
Find Your Perfect Finish
Experience the soft and luxurious limestone finishes by Kindred Outdoors & Surrounds.
Available in four unique colors and two handcrafted finishes.
Order a Sample